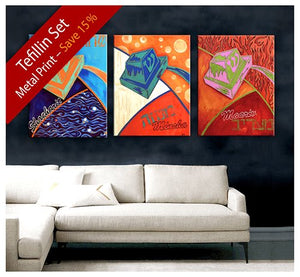 Tefillin Set I–III – HD Metal Print
Sale price Price $1,199.00 Regular price
Tefillin I–III
 Shacharit | Mincha | Ma'ariv

23.6x31.5" (60x80 cm)

Our special offer: Buy all three works and save 15% compared to the individual prices!


Reliable and durable – thermal sublimation and robust aluminum make a great combination

It is lightweight and robust – even in oversized formats

1 mm thick aluminum

Silver from the back

Special transparent coating

The integrated wall-mounts on the back of the picture make it easy to hang it securely.

Bordering aluminum rail

Extremely vivid colors with rich contrasts
If you are looking for a custom size, please get in touch with us for your individual personal offer. 
Each size and type comes as a limited edition of 150, with a certificate signed by the artist. It is shipped as an art secure shipment.