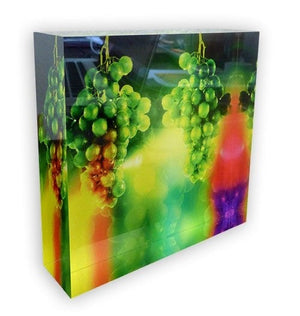 7 Species – Acrylic Block
Sale price Price $42.00 Regular price
The artwork gains visual depth and brilliance under a block of acrylic glass, 
almost one inch thick. The block's transparent edges are polished, meaning you can see through all sides to every razor-sharp detail in the image.
The Acrylic Block stands alone and doesn't need any additional stands or supports. It is ideal as a small sized addition to your sukkah or home decoration.

Glossy and crystal clear with precise details and vivid colors. UV-protected and non-breakable for long-lasting brilliance and a crystal clear view. 
Pick your favorite fruit or the complete set and add one to your
Sukka table on each day of the week. 
1. Grapes
2. Figs
3. Dates
4. Barley
5. Rimon
6. Wheat
7. Olives
Ships within 5-6 business days after you place the order. Shipping costs will be added at checkout.