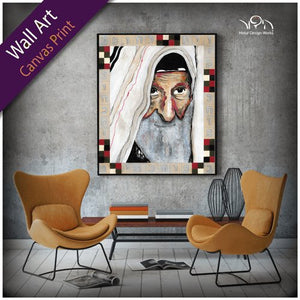 Rav Yitzhak Kadouri – Canvas Print
Sale price Price $317.00 Regular price


"But you shall greatly beware for your souls …"
—Deuteronomy 4:15

Available in two sizes. If you are looking for a custom size, please get in touch with us for your individual personal offer. 
Each size and type comes as a limited edition of 150, with a certificate signed by the artist. It is shipped as an art secure shipment.
Please consider the additional shipping costs of $14.90 that will be added at the check out procedure. 
Classic canvas texture

6-color latex printing

2 3/8 (6 cm) deep stretcher frame: impressively sculptural in appearance

Rich colors and a large gamut
Detailed resolution and nuanced hues
Powerful contrasts