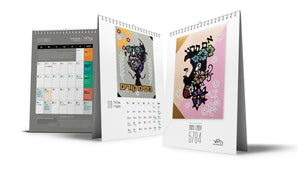 Jewish Art Calendar 5784
Sale price Price $31.00 Regular price
Jewish Art Calendar 5784

You will have a difficult time deciding which side of this beautiful 2sided art calendar to hang. That's why we give you 10% off for all purchases of 2 calendars or more.
• Gregorian-Hebrew Calendar (9/2023–10/2024)
• All Jewish Holidays & Fast Days
• All Christian, Muslim & Secular Holidays in 12 countries around the world
• Parasha & Haftara for Shabbat & Jewish Holidays
• Counting the Omer
Production details:
• High-Quality art print
• A3 | 11" x 17"
• 2sided full-color print
• 250g matt Art print paper
• Wire-o-calendar-binding for wall hanging
• Clear PVC cover sheet for protection on the front
• Stable 500g cardboard on the back
• 14 unique graphic artworks
The selected works are part of the cycle "One — The Age of Redemption", a series of original papercuts. They form a graphic kaleidoscope of the various, often opposing voices in Israeli society. 

The Israeli elections in 2022 brought in the most controversial and (as a lot of people think) most dangerous right-wing government in Israeli history under Prime Minister Binyamin Netanyahu. As an artist, I felt the need to react to these political and social challenges in my work. The result is this cycle of paper cuts. 
Pre-order now. The shipments will be sent in the first week of August.
For worldwide shipping please take 7 days into account for the package to reach you. Shipping costs will be added at checkout.